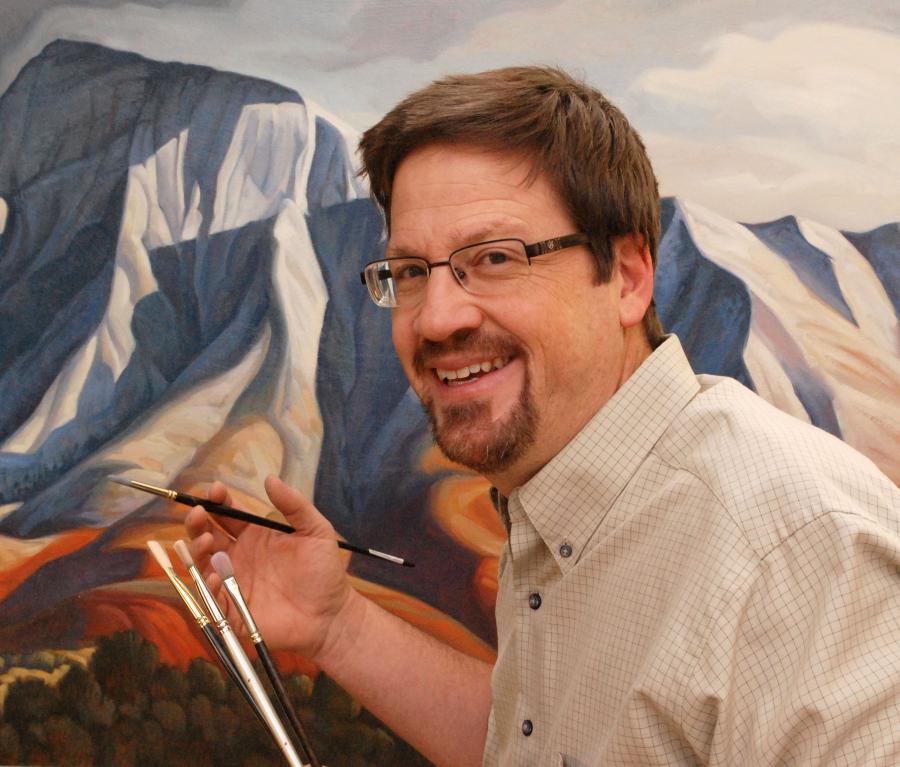 Greg Newbold has been drawing and painting for as long as he can remember. His gift was recognized at an early age and was fueled by supportive parents who kept him supplied with paints, pencils, paper and clay.
Greg earned a Bachelor of Fine Arts degree from Brigham Young University and an MFA from the Hartford Art School under the mentorship of such illustration industry legends as Murray Tinkelman, C.F Payne and Gary Kelley. His skill set has grown to include digital illustration and gallery oil painting to compliment his traditional drawing and painting. He feels fortunate to make his living doing what he loves most. Greg always felt it a privilege to make the world a more beautiful place through his paintings and reaches for that goal every time he picks up a brush.
Throughout Greg's career, such notable clients as Simon & Schuster, Random House, Heinz Foods, Harper Collins, Smucker's, Pilgrim's Pride, Kleenex, Barnes & Noble and The Wall Street Journal have commissioned his recognizable brand of artwork. He has also illustrated a dozen picture books for children, though adults seem to like them also. They include companion books If Picasso Painted a Snowman, If da Vinci Painted a Dinosaur and If Monet Painted a Monster written by wife Amy Newbold (Tilbury House Publishers- 2017, 2018, 2019), The Little Match Girl (Shadow Mountain; 2017), The Barnyard Night Before Christmas (Random House-2007), companion books Winter Lullaby and Spring Song by Barbara Seuling (Gulliver Books/Harcourt 1998; 2001) and The Touch of the Master's Hand (Gold Leaf Press, 1996-Reissued- Stellar Books; 2007).
Newbold's work has been honored with awards from illustration industry icons such as the Los Angeles Society of Illustrators (Gold, Silver and Bronze medals), The Society of Illustrators (NY), Communication Arts, The American Institute of Graphic Design, 3x3, Spectrum and others. Greg is a five time Best of State-Utah winner in Drawing/Illustration and won the Best of State Statue for the overall Arts & Entertainment category in 2005. His work has been exhibited in New York City, Los Angeles, Columbus, Ohio, and around the mountain west.
His passion for depicting the landscapes of the West has been a major focus in recent years. Greg's gallery works are currently represented by Mark Sublette Medicine Man Gallery in Tucson, Arizona and David Ericson Fine Art in Salt Lake City. His works are included in many corporate and private collections including Zions Bank, Utah Transit Authority, Salt Lake City Corporation, Boy Scouts of America and The Springville Museum of Art
When not painting Greg can be found enjoying vegetable gardening, fishing, or camping in the great outdoors with his family near their Salt Lake City, Utah home.